How Does This Thing Work?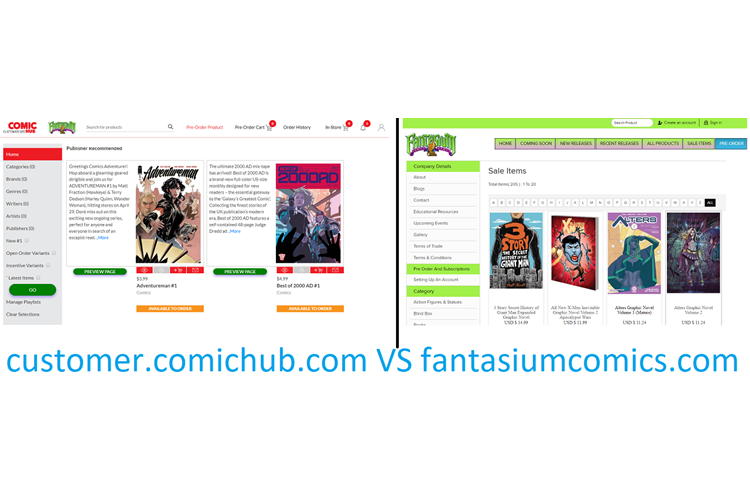 We have switched to our new Point of Sale System. There are 2 separate areas of our website that do very different things. The login you were given will grant you access to both. I recommend you use a computer. I've heard feedback from customers that the phone app is difficult to navigate. This is something the developers are aware of, but it may be a while before they get to fixing it.
Purchasing Items Off the Shelves & Game Pre-Orders!
To order items that are on our shelves right now or to pre-order product, you'll go to fantasiumcomics.com and search there. If there's something you'd like to pre-order but don't see, check out the customer.comichub.com site first, then email us if you still don't see it.
Comic Subscriptions!
You'll be able to access your holds and orders and pay for items that have been set aside for you. Please let us know if you have any questions or issues. We're learning this with you so any and all feedback is helpful! 
Login to https://customer.comichub.com/ to use the desktop version.
To get the most out of ComicHub, we recommend you spend 10 minutes watching the 4 very short tutorial videos. You can find these after you login by clicking on the person icon in the upper right hand corner.
You will have to pay for items from each part separately. The developers are working on making these 2 parts of the website seamless. They understand that it's confusing for new users and are working to make it better.
Paying for Your Holds (Aside)
After you get logged in at customer.comichub.com, click on Order History, the top row should say Aside Items. That's the terminology they use for items set aside for you. If you don't see this row, then there's nothing in your Aside and you're all caught up! Yay!

If you want to pay for your stuff, you can click on Add All Items to Cart or pick and choose by using the little cart button under each item. But only from that top row. Once you've added stuff, click on the cart icon to pay.