Schrodinger's Video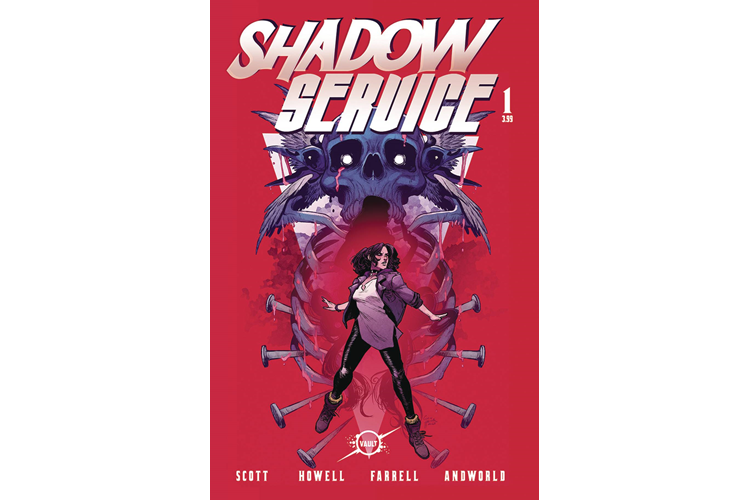 Ahoy-hoy Friends,
Lot's of good books this week! Shadow Service looks promising, Drakkon is a gonna be a great addition to the Power Rangers mythos and finally, last but not least Maestro is here; this is gonna be a killer book! Oh and I know I keep promising new episodes of "Paula's Pictures Presents: A ComicHub How To Tutorial and Explanation Event Explaining the Intricacies and Idiosyncrasies of ComicHub Ordering and Online Purchasing for an Easier Comic Collecting Experience," but we will get one soon, sometime, eventually. Honestly we'd probably have one out, but we spent the pre-production budget coming up with the name!
See You Around The Shop.
--Ed
"Power Ranger: Drakkon: New Dawn" Boom: Another great addition to Boom Studios Power Rangers Saga! If you've been following the story of Drakkon's defeat and Kimberly rising up as the Ranger Slayer, this is a must read. Kim is dealing with politics, opposing factions under her rule, and what it even means to rule after Drakkon. Will she succumb to the advice of Scorpina and rule with an iron fist or find a way to bring compassion and unity to this war-torn world? Also who is the man in the iron mask? Why does he have a ranger suit, and what is this new threat on the horizon? If you haven't been following the events leading up to this title, I would strongly recommend back tracking and reading the trades to get caught up to get the most out of this story. 6 if you're not following the series or 7 if you're up to speed out of 10 
"Maestro" Marvel: I was right, it's awesome, and I can't wait for the second issue! Peter David returns to the Hulk to tell the story of how Hulk became Maestro! The writing is self-serious, witty, funny and surprising. There are appropriate references to Hulk's history and supporting characters, even an MCU Easter egg that Hulk quickly verbally smashes. I don't want to ruin a good read by giving anything away. The art! Oh the art is fantastic. Hulk's face is deeply angry at all times with intent and purpose masterfully drawn into his body language! 8 rude awakenings out of 10
"Shadow Service" Vault: Spycraft meets Witchcraft. If you enjoyed "Black Magic," you should check this title out. This draws less from actual occult practices than Black Magic does, but makes up for it with the immediacy of the mystery and the danger. There is one gory splash page of a corpse in a garage, leftovers from a serial killer, so if you're squeamish, you may want to pass. And our hero protagonist has an animal companion! It's one part "Harry Potter" mixed with two parts "Kojack" and a pinch of "Seven" to flavor! 7 ratatouilles out of 10

A Word from Paula 
Well, I was going to do the video on Playlists this week. I swear. I didn't get it done these last few weeks due to a mix of feeling down and having a hard time with my classes. I'm feeling better now and I got a 97 on one of my finals. That also means school is done for a bit. Now I can just focus on the shop and Final Fantasy VII Remake for a couple of weeks until Fall Semester starts up. Back to Playlists. I started playing around with it this morning and it doesn't seem to be working correctly. I've sent a message to the developer to see what's going on. 

So, I know reviews are usually Ed's territory, but I just read Alienated #5 this week and holy-emotionally-fueled-alien, Batman! It's bonkers! There's still 1 issue left of this series and I can't wait to see what happens. This whole series has made me wonder who's the good guy in all this? These kids all seem terrible. We still don't know who's the good guy, but oh boy! Did we definitely find out who's the bad guy.