Comics, Games, Paintings!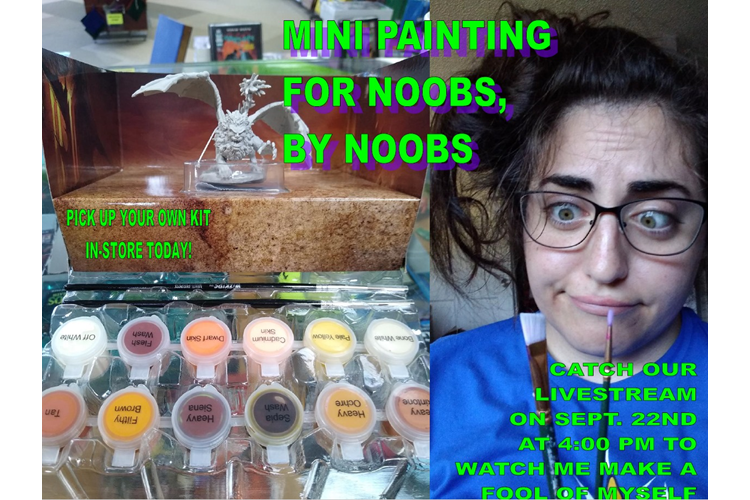 Ahoy-Hoy Friends,
I'm sure those of you who were reading my old review column have noticed I am covering fewer books than I used to. The reasons for this are twofold.  First in general, post-covid fewer new titles are coming out and second, I struggle with being negative. Just because I don't like something doesn't mean you don't love it! Who am I to yuck on your yum? I've also only been reading comics regularly for 6 years, so maybe this piece of garbage is actually genius but I'm not cultured enough to understand the subtle and esoteric reference it's making. I'd rather report on what I find good in the world of comics. You can disagree with me about that as well, but at least I won't be adding negativity to the cosmos. Also in this issue a word from Paula, and Aleah reviews a game!
See You Around The Shop --Ed

Now a Word from Paula
Ed has been hard at work this month going through the comic catalogues and hand-picking new titles that you might be interested in. There's a new Wolverine title, Sweet Tooth is coming back, and there's a new mini-series called "The Other History of the DC Universe" written by John Ridley! Make sure you login to your ComicHub account (either through the web browser or the brand-new app) and check out the Fantasium Comics & Games Recommends carousel to sign up.
Jill has a Facebook Live event coming up this Tuesday that you should check out! It's called "Mini Painting for Noobs, by Noobs." Jill's never painted a mini before and you can paint along with her as she follows the instructional video. You still have time to pick up the manticore painting kit to follow along with her!

Aleah and I have been hard at work moving around the All Ages section. I've been adding so many books, it desperately needed to change. Now we've got more room to spread out and add more books! Be sure to check it out and see what we've got that the younglings might like

Comics

"Marvels Snapshots X-Men" Marvel: Have all the "Snapshots" been this good? If I had known that I would've read them all. This is Cyclops's origin story, and I don't know how it compares to earlier renditions but I thought this was absolutely great. The writing really got inside Scott's head as a teenager, letting us peek into his doubts and worries, his discovery of early superheroes, and his first attempts at being a hero,  We also meet a kind librarian who set him down the path of becoming a great tactician. I love when heroes get to be heroic, when they act justly, with virtue, with honor, when they stand up and allow us to see our better selves reflected in their deeds. 7 Optic Blasts out of 10 
"Stillwater" Image: What a wild book! Equal parts horror and supernatural mystery with a fair bit of "Deliverance" thrown in for seasoning. At first the bold and exaggerated line work turned me off, but slowly I started to see the motion captured in the art. Not always so obvious as a blur or speed lines, but in the tilt of a body or shape of a vehicle. Not to mention the colors are extraordinary, like bathing in the glow of a campfire. Maybe I just miss the outdoors? Zdarsky crafts an intriguing tale with instantly recognizable characters treading into a most unrecognizable set of circumstances. 8 side eyes out of 10 

Games

"Betrayal at House on the Hill"
You and your friends are a group of explorers who thought checking out a haunted house would be a good idea. Everything's fine and dandy until one of you becomes the killer and goes on a murderous rampage. The remainder of the group must figure out how to defeat the traitor and get out of the house before too many parish.
Traits: Co-op, Exploration, Dice Rolling, Push Your Luck, Storytelling
Rating: 5/5 Favorite game ever