The Whole Kitchen Sink!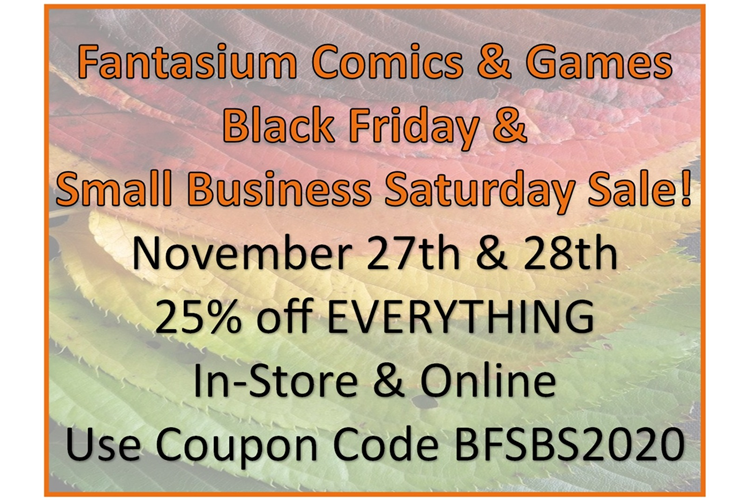 Ahoy-hoy Friends!

I had a hard time with this week's new books. Nothing really jumped out at me. So I think I'm gonna write about a few more titles than I normally do, but I'm gonna keep it short and no ratings. Basically everything gets an honorable mention! Let us know if you prefer my more in depth review of a few titles or this style of short scattershot summarys. Also Paula has an announcment regarding Balck Friday and Small Business Saturday!
See You Around The Shop --Ed

Black Friday/Small Business Saturday – November 27 & 28
In an effort to avoid overcrowding in the shop this Black Friday and Small Business Saturday, we're going to give everyone a coupon code for 25% off on November 27th & November 28th. We encourage you to use this coupon to make your purchases Thanksgiving weekend and pick them up later. Head on over to FantasiumComics.com and click on Shop. At the checkout screen enter coupon code BFSBS2020. The code is good from sometime on Thanksgiving evening to the end of the day on Saturday, November 28th.
ComicHub Pro Users get an additional 5% off! What's a ComicHub Pro User you ask? Starting now through November 22nd, if you place a pre-order through your ComicHub account or pay for your Asides through your ComicHub account, I will email you on Monday, November 23rd your SECRET coupon code for 30% off everything on our store website. The code is good from sometime on Thanksgiving evening to the end of the day on Saturday, November 28th. This coupon code only works on items you can find over at FantasiumComics.com and by clicking on Shop. It doesn't work on items in your asides.
If you've never logged in to your ComicHub account before, head on over here for some helpful videos that we made - https://www.youtube.com/channel/UC5FLHT2CtTVY8CAWkssyX8w

Honorable Mentions

"Crossover" Image: Superheroes "crossover" from a comic book into the real world. Lots of meta and socio-political commentary as well.

 

"La Diabla" Albatross": Another fantastic character and design from Eric Powel! It's just too bad we had three or four characters tell an origin story for La Diabla. Each origin is interesting but I felt the pacing of the book suffered, since every few pages the story would essentially start over.

 

"Origins" Boom: I was really excited for this book, it looks super cool. Weird face mask/breathers and strangely familiar flora dot the pages. Resulting in a beautiful post apocalypse.

 

"Wolverine: Black, White, and Blood" Marvel: A sweet mostly monochromatic anthology title with a rotating cast of creative teams. The second story is by far my favorite, followed by the final tale, and the opener was something of a snore. Which shouldn't be possible with Logan fighting some sort of snow beast! Is it Wendigo, Sasquatch, or a random snow monster? Could one of our X-Men X-Perts let me know?