Future League Reborn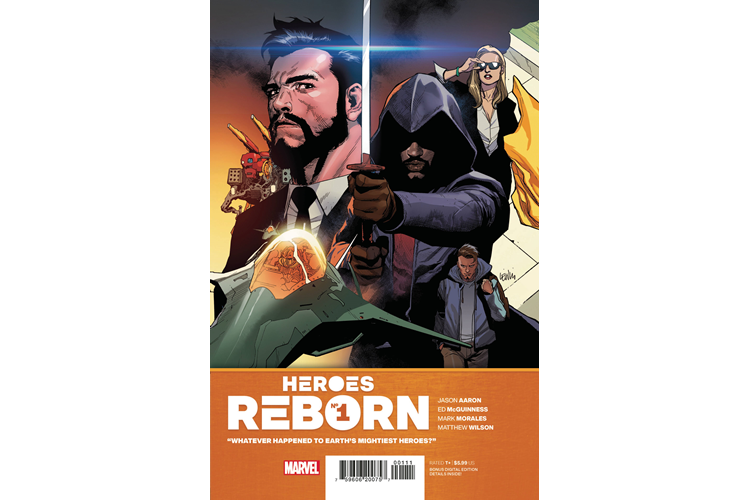 Ahoy-hoy Friends!
Sorry I missed last week, to make up for it I'm hitting more titles and all of the issues of Marvel's "Heroes Reborn" that are out so far!

"Heroes Reborn" Marvel: Best part of this first issue are the mashed-up villains á la Infinity Warps with new characters like "Dr. Juggernaut" and "The Silver Witch". It's silly and fun but takes itself very seriously. If you're not into the "Hellfire Gala", this is the Marvel event for you. Jason Aaron is playing loose and fast with Marvel continuity. Either he's retconning history, doesn't know it, or may simply be trying to bring the comics into alignment with the MCU. 6 mashups that make me want a return to the Amalgam Universe out of 10
 
"Hyperion & The Imperial Guard" Marvel: Initially though I was somewhat put off by the art, there isn't anything egregious. It's fine. Just fine. Which some would argue is a cardinal sin in an action-packed superhero book. The art should pop and dazzle, and it should amaze and cause wonder. Bandini is fine though, if a bit bland and uninspired. (I told myself I wouldn't focus on the negatives anymore, my apologies) Onto what I liked – nay, loved about this title! The writer blew me away. I know next to nothing about Hyperion, I didn't even know this used to be a title. That speaks to the writer's ability to draw me in and by the end of the book I cared about these characters and the hard decisions presented to them. 7 panels set in an intricate skull out of 10. 
 
"Peter Parker: The Amazing Shutterbug" Marvel: I realized part way through that this is essentially a "What If...?" Peter Parker never became Spider-Man story and it's fantastic. This story is full of heart and soul. Twisting the familiar heroic attributes of Peter into something not villainous but mundane. An inspiring quote is paraphrased and is still able to lend it's power to Parker but in a somber and subdued manner. 8 spider bites out of 10  
 
"Future State: Gotham" DC: If you need more Magistrate in your Gotham City and need to know why and how Jason Todd betrayed the Bat, then you gotta pick this book up. I wasn't expecting much and was pleasantly surprised by the action and the set up. I wish they'd saved the big reveal for a later issue though; having it come out mid-way through this book undercuts the character's tension and mystery. I was really surprised this was in black and white too, and I think I would have preferred color. The further I read though the more I noticed the paper quality as well – something about it reminds me of Manga. That backup story is killer btw, worth picking this book up just for the back-up. 7 Bat-holes out of 10
 
"Justice League: Last Ride" DC: The main story being told is interesting and is sure to be exciting and action packed but I am much more intrigued by the past events the Trinity keeps referring to; is the vague Crisis they're mentioning and the death of [Redacted] in continuity? Did it happen or is this a plot point Zdarsky created to further his story? Is this book set during Infinite Frontier or is it fully out of continuity? Chip is playing fast and loose with continuity and I found myself more preoccupied with trying to find its place in the universe rather than enjoying the story. Somebody more knowledgeable than me, please let me know. There are some execution errors but beyond that it's a fun read with fun art! Gotta say in the end I really dug this, and I'm excited to see where the Last Ride goes!  7 ugly armor design's out of 10
 
Honorable Mentions
 
"DC Festival Of Heroes: The Asian Superhero Celebration" DC: That name is a mouthful! This is a great anthology spotlighting Asian characters throughout DC's history. Perfect for celebrating Asian American and Pacific Islander Heritage Month!